My goal is to help promote positive psychological outcomes in young people and their families.
Psychological Testing & School  Neuropsychological Evaluations

Dr. O'Connor offers psychological testing solutions to children, adolescents and  young adults. She has also created a number of products to help increase understanding of the psychological challenges that young people and their families face and how to address them. Her clients include  parents and families in Toronto and the surrounding area. She takes referrals from  educational personnel, physicians, pediatricians, personal injury and family lawyers, mental health professionals and organizations, as well as Children's Aid Societies.

Dr. O'Connor's psychological testing services include comprehensive, in depth psychological assessments and school neuropsychological evaluations. Her psychological testing services help get to the root of a range of psychological issues, and lead to evidence based solutions to address them. These include social, emotional and behavioral concerns, including trauma based concerns, as well as learning and academic problems.

Are you looking for help with adolescent or child problems, or with concerns that present in a young adult?
Do you worry about learning or behavioral  problems, or social and/or emotional concerns?  What about neuropsychological issues in a young person? Does the young person suffer from an acquired brain injury, a learning disability or significant attention problems?
What about neurodevelopmental risk factors?  Does a young person you know suffer from prenatal exposure to drugs or alcohol, or both, or low birth weight and prematurity?  

Perhaps you worry about trauma related issues in a child, adolescent or young adult.
Has the young  person experienced a single acute trauma like a motor vehicle accident?  Is he or she showing trauma symptoms associated with Post Traumatic Stress Disorder? Or has the young person experienced ongoing, chronic or complex trauma such as exposure to multiple traumatic events that occur within the family, and/or community?  Is he or she showing trauma symptoms such as emotional and/or behavioral dysregulation, social/relationship difficulties and/or high levels of physiological arousal and problems with concentration? 

Perhaps you are a young adult searching for a psychological assessment to explore learning issues, such as a learning disability in order to pursue appropriate support at the college or university level. Or are you looking for help around college admission tests, and/or other issues such as behavioral and emotional concerns?
You are not alone.
Children, adolescents and young adults suffer from a range of psychological concerns, from the relatively benign to the more serious. Their families, and the professionals who work with them, are searching for help to support these young people. They want to get to "the root" of the problems that inhibit the potentials of these young people, and find effective strategies to address them.

Psychological Testing Can Help
Dr. O'Connor is a licensed psychologist, practicing in Toronto, Ontario (Yonge & St. Clair area). Her  psychological testing services help parents, as well as professionals, organizations and community agencies, with a range of adolescent and child problems, as well as those that present in young adults. Her services  increase understanding of the psychological  and learning problems that present in a young person, and lead to evidence based solutions to address them.
Her services include:
Dr. O'Connor has over two decades of experience working with children, adolescents, young adults and their families. She holds a Diplomate in School Neuropsychology from the American Board of School Neuropsychology, as well as specialty designation in Clinical Psychology from the American Board of Professional Psychology. She is a fellow with the American Board of Clinical Psychology. Her areas of practice with the Ontario College of Psychologists include clinical psychology, school psychology and counseling. 

She integrates a school neuropyschological understanding into the assessments she offers to  young people, their families and the helping professionals who work with them. 

She is a member  of:

The Canadian Psychological Association
The Canadian Register of Health Service Providers in Psychology
The International Neuropsychological Society
The International Association for the Study of Attachment 
In addition, to her Toronto practice at Yonge and St. Clair, she offers psychological and school neuropsychological assessments at the Family First Play Therapy Center in Bradford Ontario, and the Lingyu International Psychology Centre in Toronto. 
---
Contact Dr. O'Connor about her psychological testing services.

Learn more about Dr. O'Connor and how she can help you and the young people you care about and work with.  

What about the other psychological challenges that plague young people and their families? Are you worried about a child whose parents are addicted to alcohol or drugs? These children are at greater risk of developing a range of psychological  problems, including learning and social, emotional and behavioral concerns. They are also at greater risk of experiencing various psychological and mental health problems as adults, such as alcoholism or other addictive disorders, or problems with intimate relationships, or healthy partner choice.
Dr O'Connor's articles, products and books focus on Family Problems and child behavioral concerns.

To view Dr. O'Connor's products and books click here.
To access Dr. O'Connor's free articles click here.

Learn more about Dr. O'Connor's  book, "I Can Be Me-A Helping Book for Children of Alcoholic Parents.
With I Can Be Me you can begin helping these children now.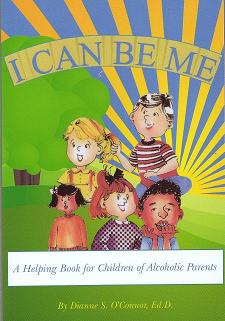 Find out more about I CAN BE ME, and how to purchase this book.