Postpartum Depression
Are you, or is someone you know suffering from postpartum depression? Understanding the problem, including what it is, its risk factors and causes, its signs and symptoms and how to address it can help.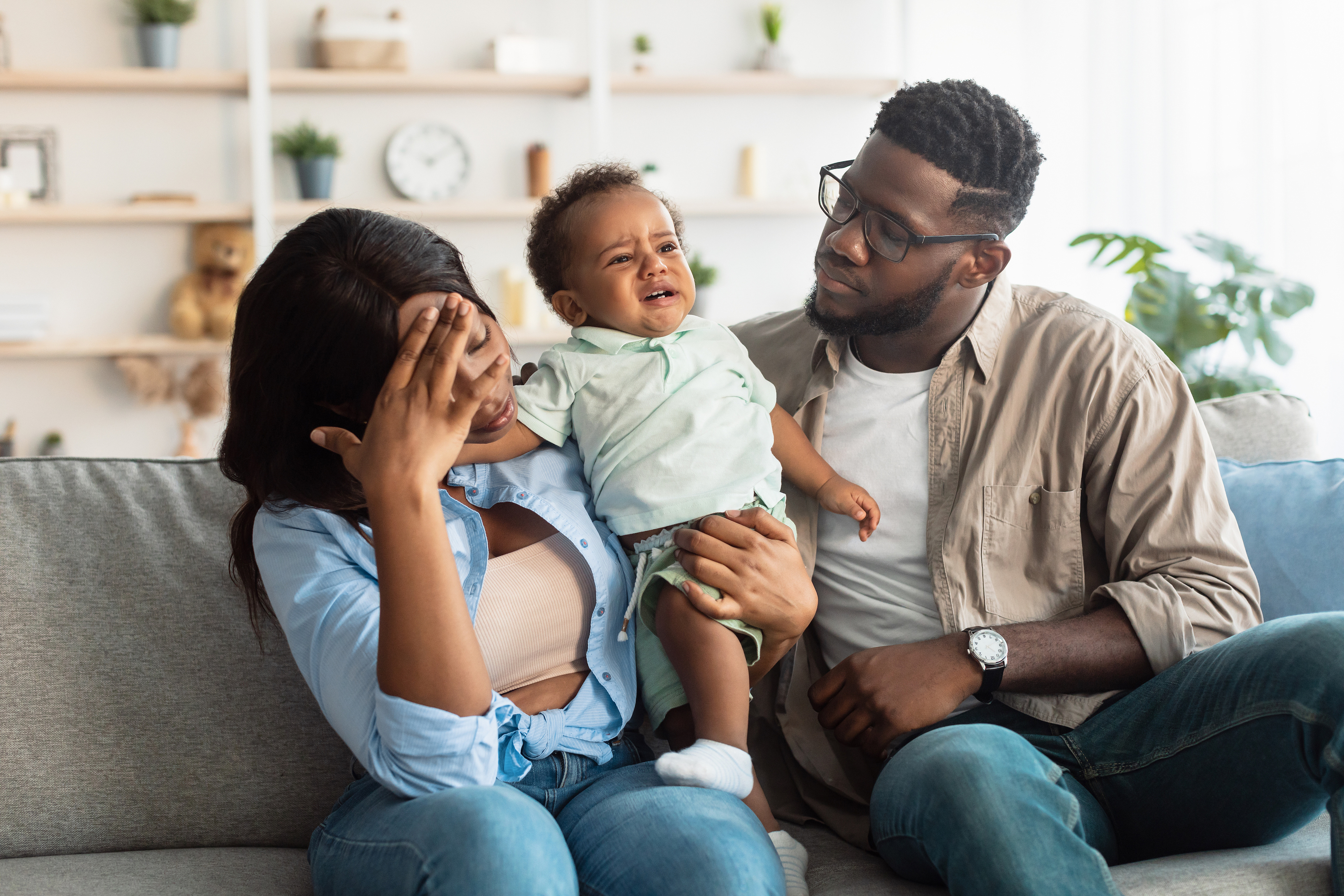 What is Postpartum Depression?
Although we generally view the birth of a new baby as a happy time, it is not uncommon for new mothers to feel some sort of low mood following the birth of their child. Despite the eager anticipation and the joy that often accompanies the birth of a baby, feelings of sadness and low mood can surface in the mother, and also the father. This is what we normally refer to as "the baby blues." The "baby blues" is considered a transitory state characterized by feelings of sadness and low mood, and can last a few hours to several days.
Studies suggest that the "baby blues" affect up to 70% of new mothers. New fathers can also suffer from the "baby blues." Symptoms of "the baby blues" may include sadness and crying spells, anxiety and irritability. This state usually peaks in about 3 to 5 days after the baby's birth and lasts from several days to two weeks.
Such feelings are understandable. The care of a new baby is stressful, and often involves life style changes, new responsibilities, increased time pressures and decreased opportunities for sleep and rest, all of which can lead to fatigue, feelings of stress and low mood. Nevertheless, because the "baby blues" are common they are not considered a serious concern. Nor do they interfere with a mother's ability to care for and bond with her baby. .
Postpartum depression is a more severe form of depressed mood than the "baby blues" and occurs in about 10 to 20 % of new mothers. Postpartum depression can begin at any time after delivery and may take several months to develop, and can last for up to a year. It is not a passing stage and usually requires treatment to address.
Fathers Can Suffer from Post Partum Depression
It is not just new mothers who suffer from depression following the birth of their baby. New dads can suffer from depression too. Research suggests that at least 1000 new fathers in the U.S. become depressed each day. The symptoms, as well as causes and risk factors for postnatal depression in men are similar to those in women. This article will focus on new mothers since most of the current research addresses postpartum depression in women. However, much of the information presented in this article is just as likely to apply to new fathers who suffer from post-natal depression, as it is to mothers.
What are the signs and symptoms?
The signs and symptoms of postpartum depression match those that meet the criteria for clinical depression. Parents who suffer from postnatal depression suffer from depressed mood. They may also exhibit some of the following signs and symptoms:
feelings of sadness
tearfulness
mood swings
feelings of inadequacy and worries that they are a poor parent
inability to enjoy pleasurable activities
trouble sleeping
feelings of fatigue and limited or no energy
appetite problems
difficulty concentrating
negative thoughts about the baby and being a parent
feelings of anxiety, loneliness, restlessness and irritability
feeling overwhelmed and hopeless
social withdrawal
Risk Factors

Some of the risk factors for postpartum depression include:
A previous history of depression
Lack of sleep and exhaustion associated with child care
Psychosocial stressors
The stress associated with the lifestyle changes that coincide with the baby's birth
Other life stressors
Low self-esteem
Prenatal anxiety
Limited social support
Problems in the marital relationship
Hormonal changes associated with child birth
A family history of mood disorders
A past history of postpartum mood disorder
Colic and infant temperament problems
Why Do We Need to Help?
Early intervention to support and treat the depressed mother is critical, not only to help relieve her suffering but to reduce the risks that can result for her child. We cannot ignore postpartum depression. Postpartum depression interferes with the mother's ability to care for her baby, and has detrimental effects not only for the mother, but for her child.

Research suggests that the depressed mother's attitude toward her baby may include disinterest, fearfulness of being alone with the infant or over-intrusiveness. She  may be less responsive to her child's cues and needs than non-depressed mothers. The emotions the depressed mother projects as she cares for and interacts with her child are likely to reflect the negative, rather than the positive.
They may also feel more negatively toward their child than non-depressed mothers. Depressed parents may also have difficulty focusing on their child, attending to and meeting his needs and providing him with the kind of secure and supportive environment that promotes optimum development in children.
Children who are less securely attached do less well in a number of domains. They are less likely, than securely attached children, to exhibit the traits of competent, resilient children. In contrast, securely attached children do better in life regarding self esteem, independence, autonomy and enduring friendships. They are also more trusting, do better in intimate relationships and are more empathetic and compassionate. In addition, they have better impulse control and are better at managing their emotions. Reason enough, it would seem, to address postpartum depression and, in so doing, help to promote positive outcomes in children.
Treatment
Treatment is essential both to relieve the new mother's suffering and to reduce the risks for her child. The new mother can seek out the support of a licensed mental health professional with experience in treating depression. Early intervention can improve the long term prognosis for the depressed parent and promote the parent's return to normal functioning.
Treatment options depend on the factors that are contributing to and/or exacerbating symptoms of depression in the parent.
These options may include:
Proper nutrition
Regular exercise
Increased social support
Early pre-natal screening to determine the mother's risk factors and help ameliorate them.
Engagement in pleasurable activities
A supportive, caring marital environment
Other social supports
Cognitive Behavioural Therapy
Medication
Understanding the problem is the key to solving it.  Dr. O'Connor has worked with numerous families, where the mother has suffered from Postpartum Depression, and where the family is now worried about the child's  ability to cope in a healthy and resilient manner. They are looking for strategies to help.
Dr. O'Connor, a Toronto Psychologist  offers Psychological Assessments to help get to the "root of the child problem" that worries you, and find evidence based solutions to address it.

Click here, to visit a site that offers  new and expecting moms support and perspective, and quality information about their early parenting experiences. This site also offers excellent information about postpartum depression.
Resources Used in This Article
http://www.cnn.com/2008/HEALTH/family/10/13/hm.dads.postpartumdepression/index
http://emedicinehealth.com/postpartum_depression/article_em.htm
http://wikepedia.org/wiki/Postpartum_depression
Diagnostic and Statistical Manual of mental Disorders (DSM-IV-TR)
---