Child Behavior Case Study
Read the child behavior case study below. How does it compare to a child behavior problem that worries you, and what can you do to help?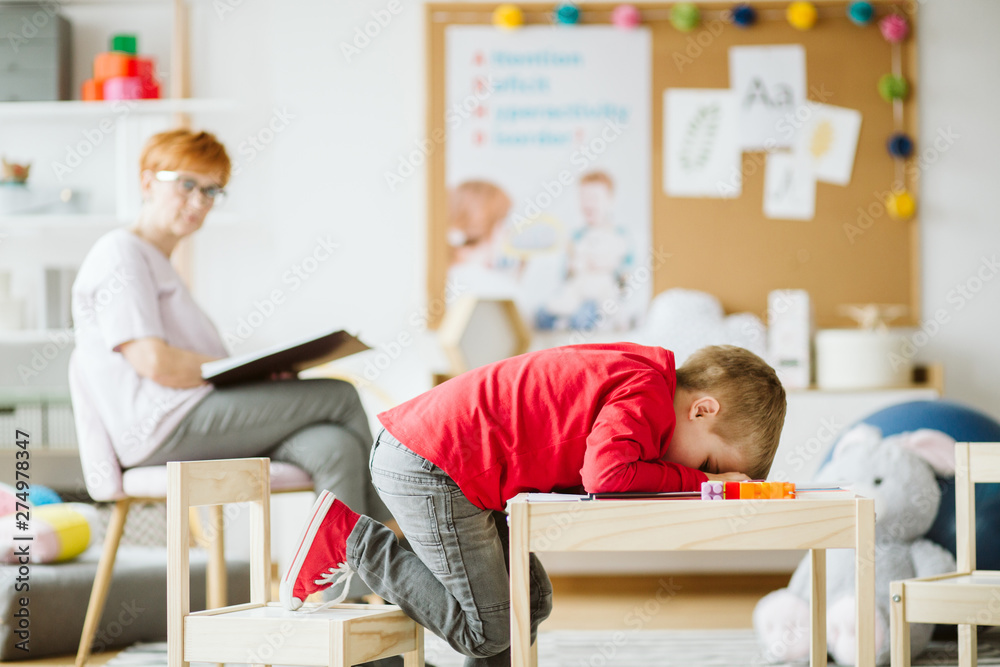 The Problem: Cathy was extremely worried about the child behavior problems her son, Jason,  exhibited at school.
He had difficulty with impulse control and experienced problems sitting still, focusing on his work and solving conflicts with other children in a non-aggressive manner. Teachers complained that he would call out in class, rather than putting his hand up and waiting his turn, he would also disrupt other children and hit them
He could be argumentative and defiant and would sometimes refuse to comply with his teachers' requests. He was a follower rather than a leader and many of his most difficult behaviors occurred with children who exhibited more severe behavior problems then he did.
His mother was extremely upset and the school called her regularly to express their concern about her son's behavior. She couldn't understand why Jason was behaving this way, and she reported that she did not experience any problems with him at home.
The Psychological Assessment: This  child behavior case study centered on the Psychological Assessment that was conducted to get to the "root of the child behavior problem" and what was contributing to, and maintaining it. 
The child assessment that lies at the center of this child behavior case study, indicated that Jason did better at home, because, as an only child, he received his mother's undivided attention and support. She also coddled him and did everything for him. She had not yet encouraged him to meet age appropriate expectations and responsibilities. He was used to being the center of attention and having everything done for him.
Consequently, he lacked age appropriate skills to cope successfully with the academic, social and behavioral demands of the school setting. He had not yet learned to control his impulses, delay gratification and wait to have his needs met. He expected to be the center of attention and to have his needs gratified immediately.
Solutions and Outcome: Using the findings from the psychological assessment, we helped Cathy understand how her own behaviors and parenting style had contributed to the behavior problems Jason was experiencing at school. She was a very kind and caring mother, but she had difficulties being assertive and setting limits with her child.  
The Psycological  Assessment became part of the solution. The findings of the Psychological  Assessment led to evidence based solutions to address it.

As part of the solution, we developed a parenting program to help Jason's mother encourage increased maturity, responsibility and independence in Jason at home. We also helped her set up a partnership with Jason's teacher so that mother was aware, on a daily basis, of how he was behaving at school. She could then intervene to help him practice more appropriate behavior skills at home and assist with the transfer of these skills to the school setting.
Cathy was also encouraged to focus on the positive behaviors he exhibited and to reinforce and encourage these, as was his teacher. We also developed a plan to help the school address and encourage more appropriate behaviors.
How Can A Child Behavior Case Study Help?

So how can this child behavior case study help you?  As you read this case study, think about the child  you are concerned about. Does she or he exhibit similar concerns and behaviors? Which of his/her behaviors are similar to those of the child featured in this case study?  Are these behavioral symptoms inhibiting your child's ability to cope with the emotional, social, learning and/or behavioral challenges of his or her life?
What stressors or other factors do you think have triggered the child behavior problem in this child? And what kind of strategies do you think could best help your child.
Could any of the suggestions mentioned in this child behavior case study help the child you are worried about?

Remember,  "Understanding the Problem is the Key to Solving It." Dr. O'Connor offers Psychological Assessments to increase understanding of child problems and how to help.  This understanding leads to evidence based interventions to address these concerns in the child.
You will also develop an increased understanding of your child's strengths and/or competencies and where things are working, or going well, and where you might need to intervene to help.

To learn more about  Dr. O'Connor's Psychological Assessment Services and how they can help, click here.
Dr. O'Connor runs her practice, in Toronto (Yonge & St.Clair.)

She can be reached at 416-592-0838.

You can also contact Dr. O'Connor by email.
Dr. O'Connor is the author of I Can Be Me-A Helping Book for Children of Alcoholic Parents.